Kale & Quinoa Salad
Serves 8 - Prep Time: 10 minutes -  Cook Time: 15 minutes -  Total Time: 25 minutes
Image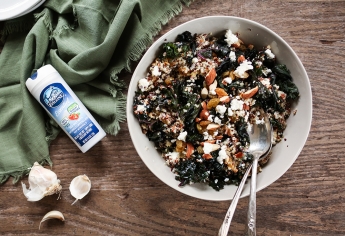 INGREDIENTS
½ cup quinoa, uncooked
1 large bunch of kale (or a 10 ounce bag)
¾ cup feta cheese crumbles
½ cup golden raisins
½ cup almonds, roughly chopped
DRESSING
Juice of 2 lemons (about ½ cup)
½ cup olive oil
1 tablespoon Dijon mustard
2 cloves of garlic, minced
1 teaspoon La Baleine Essentiel Sea Salt
½ teaspoon fresh ground black pepper
 
Image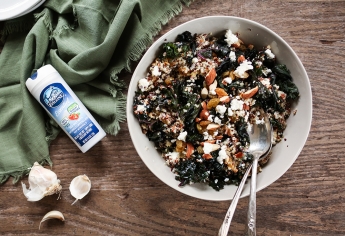 Preparation :
1) Cook quinoa according to package directions. Set aside to cool.
2) Remove kale from stems and roughly chop the leaves. 
3) In a large serving bowl, combine the quinoa, kale, feta cheese, raisins and almonds. 
4) In a separate small bowl, whisk together all dressing ingredients.
5) Toss the salad mixture with the dressing until well-combined. Refrigerate for at least an hour before serving. The salad can be made up to 24 hours in advance.