Winter crunch salad recipe
Servings : 4 - Prep Time: 15 min - Cook time: 5 min - Total time : 20 min
Image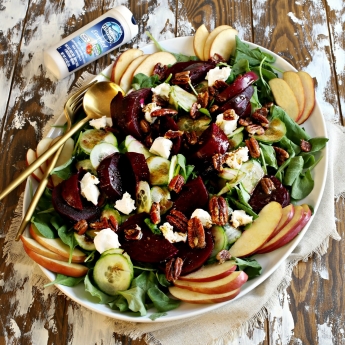 Ingredients :
For the Salad:
2 Cups arugula
2 Beets, roasted, peeled and sliced
1 English (seedless) cucumber, thinly sliced
1 Apple, cored and sliced
1/2 Cup candied pecans
4 oz. Goat cheese
For the Dressing:
3 Tablespoons olive oil
1 Tablespoon balsamic vinegar
1 Clove garlic, peeled and finely minced
1 Teaspoon mustard
1/2 Teaspoon honey
Ground black pepper, to taste
La Baleine Essential salt, to taste
For the Candied Nuts:
1 Tablespoon butter
1/2 Cup pecans
1 Tablespoon sugar
Pinch of La Baleine Essential salt
Image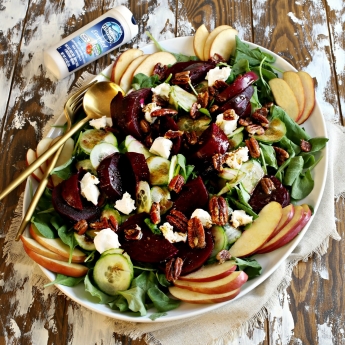 Instructions :
Melt the butter to a cast iron pan and stir in the pecans. Sprinkle on the sugar and toss to coat. Cook on medium high heat, stirring often, for a few minutes until the nuts are fragrant. Finish with a pinch of the salt and allow to cool.
Whisk together the olive oil, balsamic vinegar, minced garlic, mustard and honey to make the dressing. Season with pepper and the salt, to taste.
Place a bed of the arugula on a platter and top with the beets, cucumbers, apples and goat cheese. Drizzle on the dressing and top with the candied pecans.