Halibut with Citrus, White Wine + Caper Sauce with Grey Sea Salt
Prep time:  10  minutes   Cook time:  15-18  minutes     Serves: 2
Image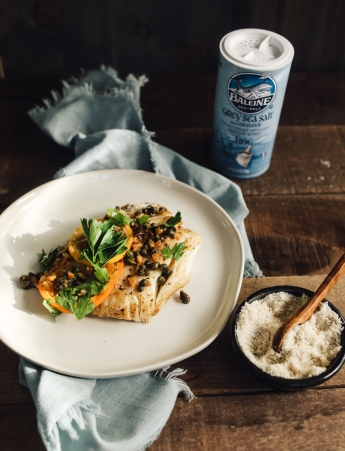 Image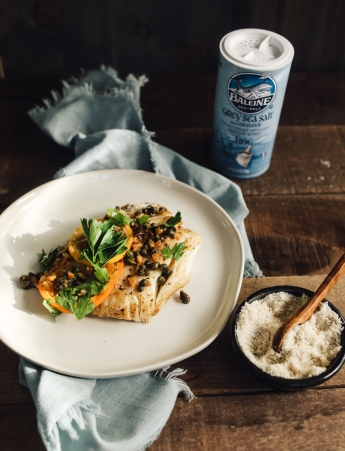 Ingredients: 
1 pound halibut, skin removed and cut into equal pieces
½ teaspoon La Baleine Grey Sea Salt, plus more for serving
4 tablespoons unsalted butter
1 tablespoon olive oil
4 cloves garlic, finely chopped
¼ cup white wine, such as a chardonnay
Juice of 2 lemons
Zest of 1 lemon
2 tablespoons capers, drained
1 large lemon, thinly sliced
1 orange, thinly sliced
Fresh ground black pepper
Fresh parsley, chopped, for garnish
Instructions
1) Sprinkle the top of the fish with ¼ teaspoon of La Baleine Grey Sea Salt. Set aside.
2) Add 2 tablespoons of butter and the olive oil to a large cast iron skillet or sauteé pan set over medium heat. Once the butter is melted and starts to brown slightly, add the fish, salted side down. Sprinkle the side facing up with the remaining ¼ teaspoon of salt. Cook for 5 minutes, then very carefully and gently flip the fish over. Cook for another 5 minutes, then remove to a serving dish.
3) Place the skillet back on medium heat. Add the garlic and cook for 30-60 seconds, or just until golden brown. Deglaze with the wine, stirring until the liquid has mostly evaporated. Then add in the lemon juice, lemon zest, capers and remaining 2 tablespoons of butter. Stir until the butter has melted. Add in the citrus slices and cook for 2-3 more minutes.
4) Transfer the fish back to the pan, along with any of the juices that have accumulated on the platter, and cook for 30-60 more seconds, spooning the sauce over the fish.
5) Serve immediately, garnished with the citrus slices and sauce as well as an additional sprinkle of La Baleine Grey Sea Salt, fresh ground pepper and a generous amount of fresh parsley.
Image