Homemade Pretzels with Coarse Sea Salt
Prep time:  40-50  minutes   Cook time:  7-8  minutes     Yields: 14-16 pretzels
Image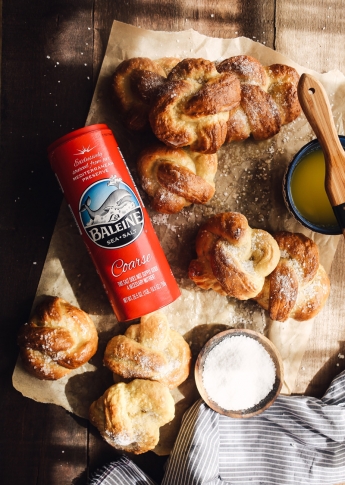 Image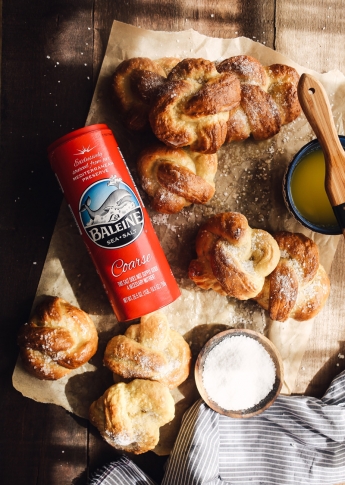 For the Pretzels
5 cups all-purpose flour
2 teaspoons La Baleine Fine Sea Salt
2 tablespoons granulated sugar
4 ½ teaspoons instant yeast
2 cups warm water
3 cups boiling water
4 tablespoons baking soda
For Topping
6 tablespoons unsalted butter, melted
La Baleine Coarse Sea Salt
Instructions
1) In a large mixing bowl, or stand mixer fitted with the dough hook, combine the flour, salt, sugar and yeast. Pour in the water, and knead the dough for 5 minutes, or until everything is combined and the dough is smooth. Cover with a kitchen towel and allow the dough to rest, at room temperature, for 30 minutes.
2) Preheat the oven to 475 degrees. Line two baking sheets with parchment paper or silpat mats and set aside.
3) In a large shallow baking pan, stir together the boiling water and baking soda, being careful as the baking soda can bubble up slightly.
4) Place the dough on a floured surface and divide it into 14-16 equal pieces (depending on the size you want your pretzels). Working with your hands, roll each piece of dough into a long, thin log, then twist it into a pretzel shape. Place in the baking soda bath for 1 minute, then flip it over and let it sit for another minute. Remove to the lined baking sheet. Repeat the process with the remaining dough, placing the pretzels about 2 inches apart on the baking sheet.
5) Allow the pretzels to rest for 5 minutes, then place the baking sheets on the middle oven rack and bake for 7-8 minutes, or until the pretzels turn golden brown.
6) Remove from the oven and transfer to cooling racks. Brush with melted butter and sprinkle with La Baleine Coarse Sea Salt. These pretzels are best enjoyed slightly warm, fresh from the oven, but they can be stored in an airtight container for an additional day or two.