Veal meatballs, pistachio and greek yoghurt
Serves 4  - Preparation time : 30 minutes
Image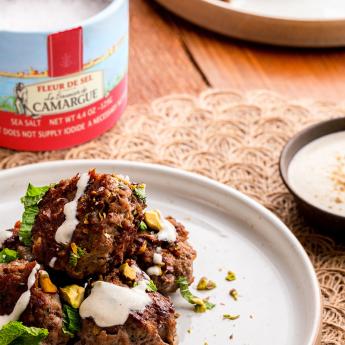 Ingredients : 
For the meatballs :
30 g pistachios, shelled and crushed
10 mint leaves, finely chopped (plus a few extra for decoration)
¼ of a medium onion, finely chopped
1 clove garlic, chopped
500 g of minced veal
1 tbsp olive oil
1 tsp cumin 
1 pinch Le Saunier de Camargue fleur de sel
1 pinch ground black pepper
1 pinch of Le Saunier de Camargue Fine sea salt
For yoghurt sauce
1 Greek yoghurt
1 tsp cumin
1 tbsp olive oil
1 tsp lemon juice
1 pinch Le Saunier de Camargue fine sea salt
Image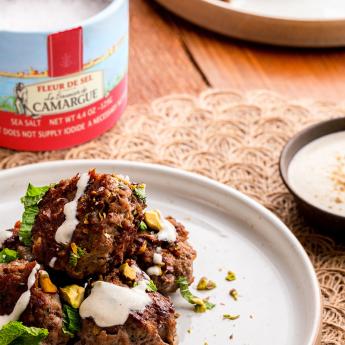 Instructions :
Prepare the yoghurt sauce : mix all the ingredients in a bowl.

Prepare the meatballs: in a recipient, mix the minced veal with the pistachios, mint, onion, garlic and cumin. Season with fine salt. Form meat balls weighing about 40 g (4 cm) with damp fingers.

Cook the meatballs: heat the olive oil in a frying pan and then add the meatballs (they mustn't be too tightly packed into the pan). Cook on a medium heat for 5 minutes, turn over half way through cooking. Cover the pan and cook for a further 5 minutes.

Season the meatballs with Le Saunier de Camargue fleur de sel and ground pepper.

Distribute the yoghurt sauce in separate dishes, serving the meatballs on top of the sauce. Sprinkle with a few mint leaves to decorate.