Quick Pickles
Prep Time: 10 minutes  Pickling Time: 30 minutes-24 hours  Yields: 1 pint sized jar
Image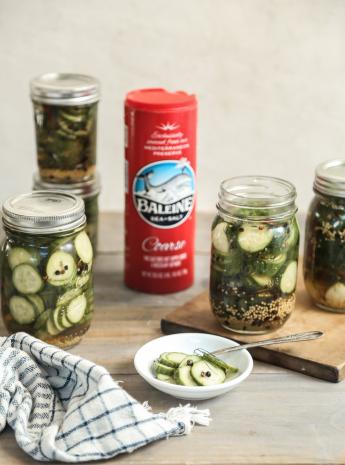 Image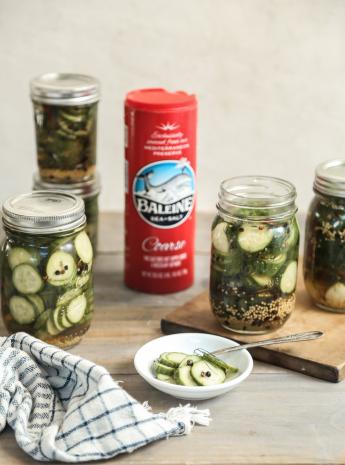 Ingredients :
2-3 pickling or Persian cucumbers or ½ large English cucumber, thinly sliced
1 tablespoon La Baleine Coarse Sea Salt 
2 teaspoons granulated sugar
2 teaspoons mustard seeds
2 teaspoons peppercorns
2 garlic clove, smashed
1-2 dried chili pepper, optional but great for a slightly spicier, zestier pickle
Sprig of fresh dill
White vinegar
Distilled water
Instructions :
1) Layer cucumber slices in a jar. 
2) Sprinkle in La Baleine Coarse Sea Salt, the sugar, mustard seeds and peppercorns. Add in the garlic and dried chili pepper, if using, then finish with the sprig of fresh dill.
3) Fill the jar half way up with white vinegar. Then top off the remainder of the jar with water. 
4) Tightly secure the lid on the jar and vigorously shake for 30-60 seconds, or until the spices are distributed throughout. Place in the refrigerator.
5) The pickles will be ready after just 30 minutes in the refrigerator. However, the longer they set, the more flavorful they become.
6) The pickles will last up to 30 days in the refrigerator.
NOTES
Small pickling or Persian cucumbers work best for this recipe. However, any type of cucumber will do just fine.
To make a smaller, half pint sized jar, simply use half the ingredients.