Salmon Gravlax
Prep Time: 10 minutes  Cure Time: 36-48 hours   Serves: 8-10
Image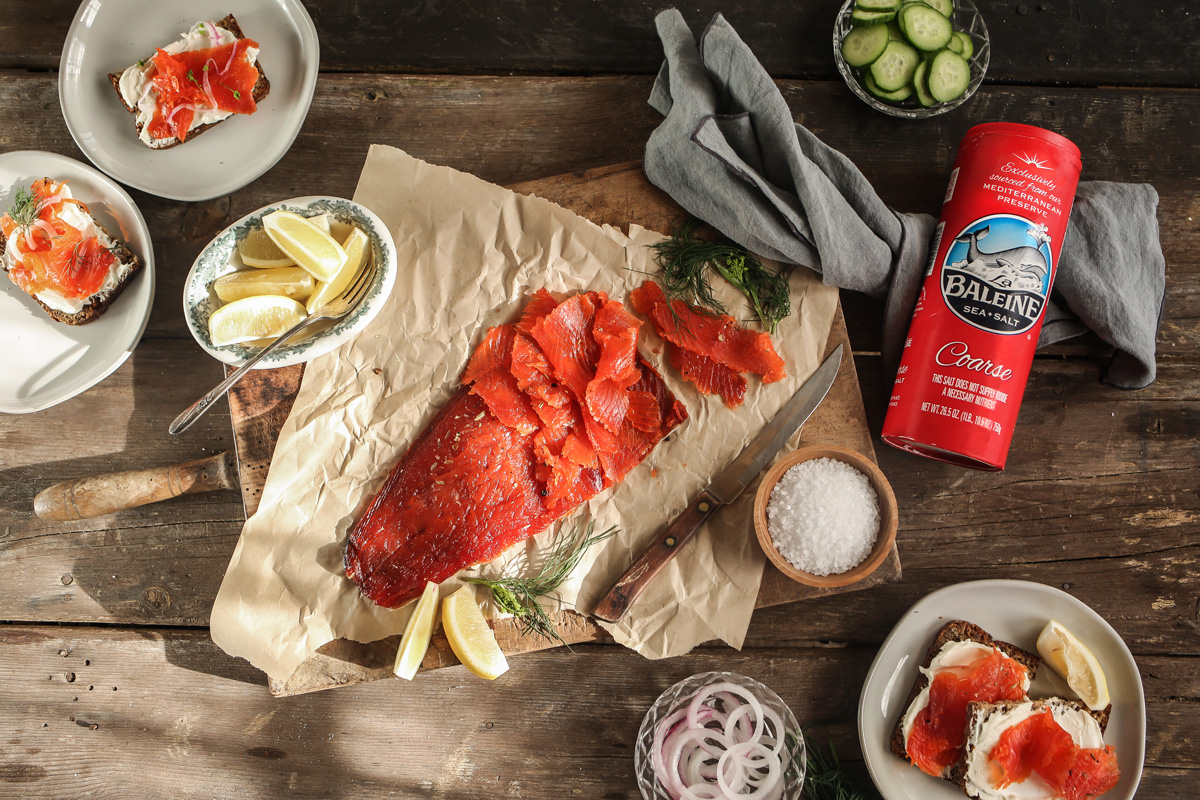 Ingredients :
2 pounds sashimi-grade salmon
2 teaspoons whole peppercorns
2 teaspoons fennel seeds
¾ cup La Baleine Coarse Sea Salt  
¾ cup granulated sugar 
Zest of 1 large lemon 
A large bunch of fresh dill
A few serving suggestions: crisp breads, bagels, rye or pumpernickel toast, cream cheese, red onion, cucumber, capers, sprouts, lemon wedges, fresh dill or parsley
Instructions :
1) Combine the peppercorns and fennel seeds in a mortar and pestle, or a grinder, and roughly grind them.
2) In a large bowl, combine the La Baleine Coarse Salt, sugar, spice mixture and lemon zest. Stir to combine. Set aside.
3) Use paper towels to thoroughly pat the salmon dry.
4) Lay out a piece of plastic wrap, about twice the size of the piece of salmon, on a medium-sized rimmed baking sheet or in a baking pan. Place a generous amount of fresh dill, enough to make a bed for the fish, in the center, then sprinkle about half the salt mixture on top. 
5) Place the salmon, skin side down, on top of the salt and dill. Pour on the remaining salt mixture, using your hands or the back of a spoon to gently press the mixture into the fish. Cover with another generous layer of dill.
6) Tightly wrap the fish up in the plastic wrap. Then place the fish, skin side up, back on the baking sheet/pan. Place something heavy, such as a cast iron skillet, on top to weight it down. Transfer to the refrigerator.
7) Allow the salmon to cure for 36-48 hours. Feel free to drain off any of the excess liquid as it collects in the tray.
8) Once the salmon has finished curing, remove the plastic wrap and dill and rinse well to remove any remaining salt mixture. 
9) Slice thinly, the thinner the better. Serve and garnish with the accoutrements of your choice.
NOTES
Leftover gravlax can be stored tightly wrapped in plastic wrap in the refrigerator for up to a week.