One Pan Steak & Asparagus
Prep Time: 5 minutes  Cook Time: 13-18 minutes    Serves: 4
Image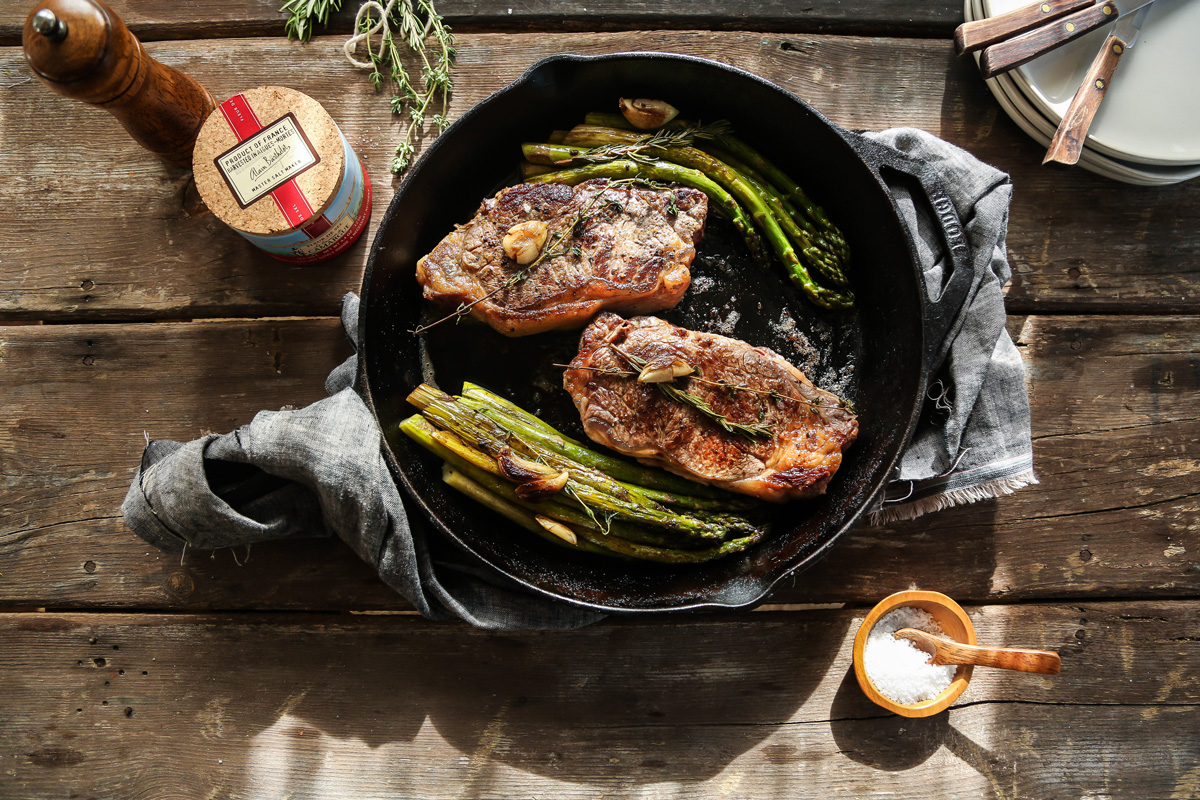 Ingredients :
1-1 ½ pound New York Strip steak (or 2 steaks, ½-¾ pound each)
La Baleine Fleur de Sel
Fresh ground pepper
2 tablespoons olive oil
4 tablespoons unsalted butter
6 cloves garlic, peeled and smashed 
1 pound fresh asparagus, ends trimmed off
A few sprigs of fresh rosemary
A few sprigs of fresh thyme
Instructions :
1) Allow steak to come to room temperature and pat dry with a paper towel, if necessary.
2) Season generously with La Baleine Fleur de Sel and pepper. Set aside.
3) Heat the olive oil in a large cast iron skillet over high heat until the oil starts to smoke. Carefully add the steak and cook 3-4 minutes, undisturbed, until a crust begins to form. Use tongs to flip the steak over and cook for another 3-4 minutes, or until it's reached desired doneness and it's internal temperature is at least 135 degrees F. Transfer to a plate or cutting board.
4) Keep the skillet on the burner and lower the heat to medium. Add the butter. Once it's melted, toss in the garlic and asparagus. Sprinkle with a little Fleur de Sel, and cook for 5-7 minutes, or until tender. Toss in a few sprigs of rosemary and thyme, then gently clear the center of the skillet. Place the steak back in and spoon some of the garlic butter sauce on top. Remove from the heat and allow the steak to rest for a few more minutes.
5) Slice the steak and serve with the asparagus and drizzled with any sauce remaining in the pan.
NOTES
While we suggest New York Strip steak for this recipe, any kind of strip steak or ribeye will work just as well.