Beef Bourguignon
Image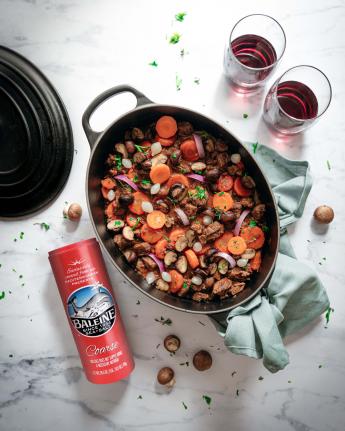 Image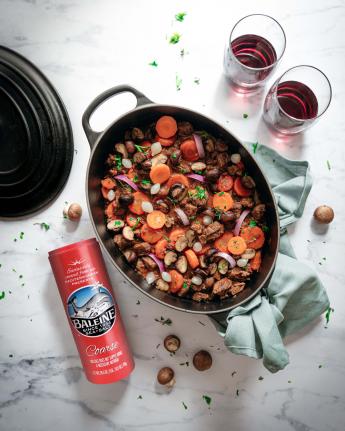 Ingredients:
125 grams of bacon strips

750 grams of beef (such as rib eye steak or stewing beef)

2 tablespoons of flour

4 tbsp of butter (unsalted)

1 tin of tomato puree (70 grams)

2 carrots

3 cloves of garlic

250 ml of full-bodied red wine

250 ml of beef stock

3 sprigs of thyme

2 bay leaves (dried)

3 shallots

150 grams of small mushrooms

125 grams of pearl onions

A bunch of flat parsley (approx. 15 g)

Pepper and coarse sea salt
Instructions :
Heat the frying pan and fry the bacon strips. Then remove the bacon from the pan, leaving the frying fat.

Cut the beef into large cubes.

Season the beef cubes with pepper, coarse sea salt (from the salt mill) and spread 2 tablespoons of flour over the meat.

Melt 2 tablespoons of butter in the pan and add the beef. Cook over a high heat until brown.

Add the tomato puree and allow to cook briefly.

In the meantime, dice the carrot and finely chop the garlic.

Add the carrots, garlic, bacon strips (fried), red wine, stock, thyme and bay leaves.

Turn the heat down low, put the lid on the pan and leave to simmer for about 3-4 hours until the meat is tender.

Remove the bay leaves and sprigs of thyme from the pan.

Cut the shallots into half rings, halve the mushrooms and finely chop the parsley

Heat the remaining 2 tablespoons of butter in a frying pan and fry the shallots and the mushrooms until the shallots are glazed and the mushrooms are light brown.

Then add to the boeuf bourguignon together with the parsley and the pearl onions and season with pepper and coarse sea salt.