Tartlets with orange marmalade
Image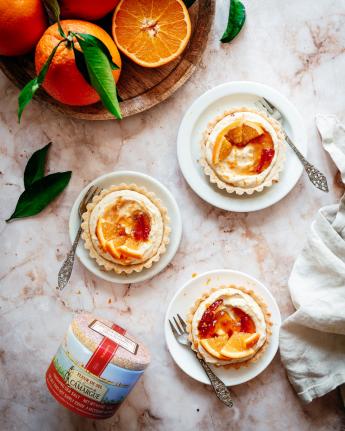 Image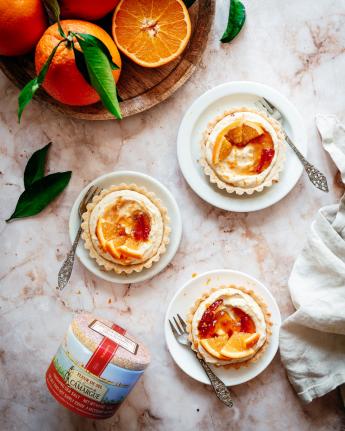 For the Tartlets:
175g flour
100g butter (unsalted - cold)
75g icing sugar
25g almond flour
A pinch of salt
1 egg (small - beaten)
For the filling:
250ml whipped cream, beat the cream together with 50g sugar until firm peaks start to appear
250g mascarpone
4 tbsp Olde English Marmalade from Chivers
1 vanilla pod
The zest of 2 oranges
Fleur de sel from Le Saunier de Camargue
Preparation
Start with the tartlets. Mix all the ingredients together except the egg until a crumbly dough is formed. Then add the egg to make a nice smooth ball of dough. Wrap it in cling film and place in the fridge for an hour.
Preheat the oven to 175 degrees.
Knead the dough briefly and roll it out until you have a rounded half centimetre thick piece.
Cut out large circles and use these to line the tartlet moulds. Cut off the edges with a sharp knife and prick holes in the bottom with a fork.
Bake the tartlets for approx. 10-15 minutes until they are golden brown. Then allow them to cool down.
Scrape the vanilla seeds lose from the pod and beat the mascarpone together with the marmalade. Carefully stir in the whipped cream and spread over the tartlets.
Spoon a generous teaspoon of the marmalade over the tartlets, add the orange zest over the top and finish off by sprinkling a little fleur de sel to taste.