Salt skinned baked potatoes
Prep time: 5 minutes    Bake time: 45-50 minutes   Yields: 4 servings
Image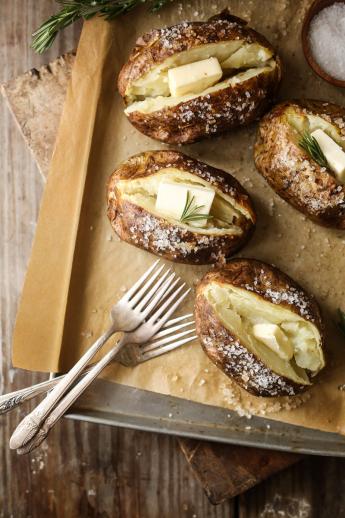 Image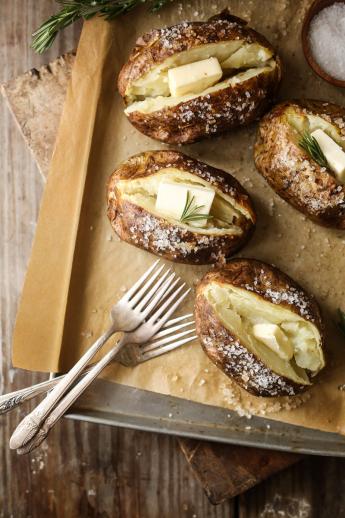 Ingredients :
4 large russet potatoes, rinsed and dried
¼ cup olive oil
2 tablespoons La Baleine Coarse Sea Salt
Optional Toppings: butter, sour cream, cheese, bacon bits, fresh ground pepper, fresh herbs (thyme, rosemary, chives, parsley), 
Instructions :
Image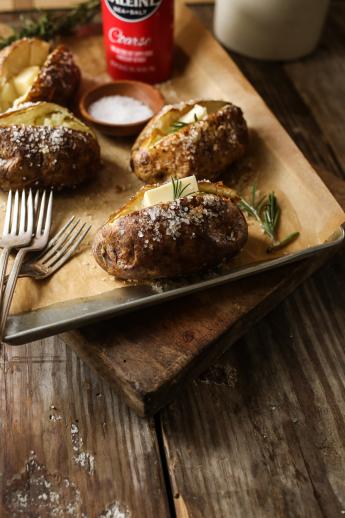 Preheat the oven to 425 degrees. Line a baking sheet with parchment paper. Set aside.
Pierce each potato 3-4 times with a sharp knife. 
Rub olive oil all over the potatoes, making sure each one is well coated, then place them on the lined baking sheet.
Sprinkle the La Baleine Coarse Sea Salt all over the potatoes, gently rubbing some of the salt into each potato.
Bake for 45 minutes-50 minutes, or until the potatoes are tender enough that they can easily be pierced with a fork or knife. Exact baking time will vary depending on the size of the potatoes.
Serve as is, or with the toppings of your choice.
Image