Salted caramel apple cinnamon rolls
Prep time: 40 minutes   Cook time: 25-35 minutes  Yield: 12 rolls
Image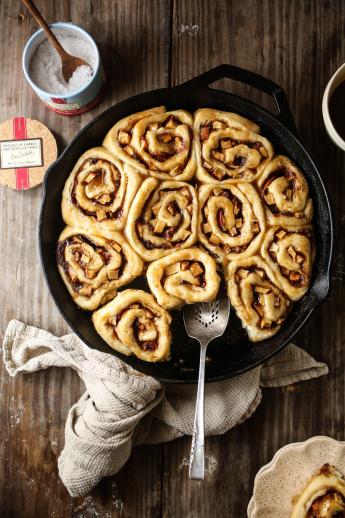 Ingredients: 
DOUGH
1 cup milk (preferably 2%)
4 tablespoons unsalted butter
3 ½-4 cups all-purpose flour
¼ cup granulated sugar
½ teaspoon La Baleine Fine Sea Salt 
1 envelope instant or rapid rise yeast
1 egg
FILLING
¾ up brown sugar
2 tablespoon cinnamon
6 tablespoons unsalted butter, very soft
2 large apples, cored and diced into very small chunks
CARAMEL SAUCE (can use store bought salted caramel sauce instead)
½ cup unsalted butter
1 cup brown sugar
¼ cup light corn syrup
½ cup heavy cream
1 teaspoon vanilla extract
½ teaspoon Le Saunier de Camargue Fleur de Sel 
Le Saunier de Camargue Fleur de Sel, for topping
Image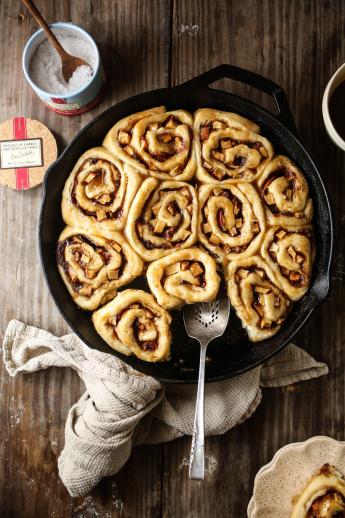 Instructions :
Image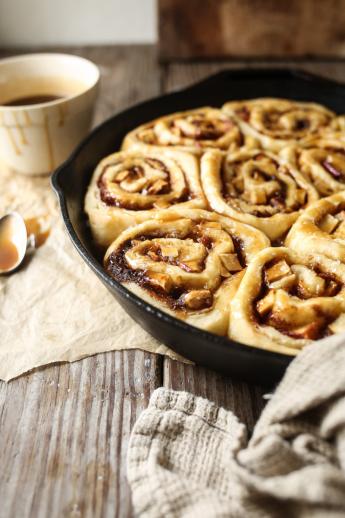 Image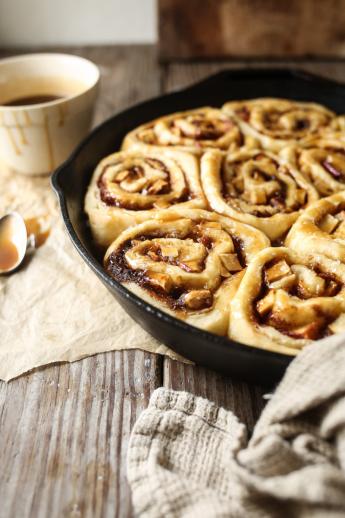 In a saucepan, combine milk and butter, and cook over low heat, stirring occasionally, until butter is melted and milk is warm to the touch but not hot.(You can also complete this step in the microwave, using a microwave safe bowl for the milk and butter.) If needed, let the milk mixture sit for a few minutes until it is warm but not hot.
In the bowl of a stand mixer, fitted with the dough hook attachment, add 3 cups flour, yeast, sugar and salt. Mix until combined, about 20 seconds. Add the egg and then, with the mixer on medium-low speed, slowly pour in the cooled milk and butter mixture. Keep beating until everything is well-combined. With the mixer on, continue adding the remaining flour, 1/4 cup at a time, beating after each addition until incorporated. Once the dough begins to form a ball and pulls away from the sides of the bowl, you'll know you've added enough flour. Continue beating the dough for another 5 minutes on medium-low speed. Remove the dough hook and cover the dough with a damp towel. Rest for 10 minutes.
Meanwhile, for the filling, in a small bowl stir together the ¾ cup brown sugar and cinnamon in a bowl until combined. Set aside.
When the dough is ready, turn it out onto a floured work surface. Then use a floured rolling pin to roll the dough out into a large rectangle, about 16 x 10 inches in size. Use a knife to spread the 6 tablespoons softened butter out evenly over the entire surface of the dough. Sprinkle evenly with the cinnamon and sugar mixture. Then top with the finely chopped apples.
Beginning on the longer edge, tightly roll up the dough, giving the final seam a little pinch so that it seals. Use a serrated knife to trim off both  ends of the roll (you can bake those separately to enjoy as a snack). Then cut the remaining roll into 11 or 12 equal pieces.
Place each of the cut cinnamon rolls into a greased large cast iron skillet, pie plate or 9 x 13-inch baking dish. Cover again with a damp towel, and leave the dish in a warm place to rise for 25-30 minutes.
Meanwhile, in a medium-sized saucepan, over medium-high heat, add the butter, brown sugar and corn syrup for the caramel sauce. Stir occasionally, cooking until the butter has melted and the mixture starts bubbling. Boiling for a few minutes, then remove from heat and carefully stir in the heavy cream, vanilla and ½ teaspoon of fleur de sel. Set aside to cool (it will thicken as it cools).
Once the rolls have risen, uncover the dish and place in a 350 degree pre-heated oven for 15-25 minutes, or until the rolls are golden and cooked through and sound a bit hallow when slightly tapped on.
Remove and cool on a wire rack for at least 10 minutes. Drizzle with the salted caramel and sprinkle with Fleur de Sel. Enjoy!