Spinach tomato quiche
Prep time: 20 minutes   Cook time: 40-50 minutes  Serves: 6-8
Image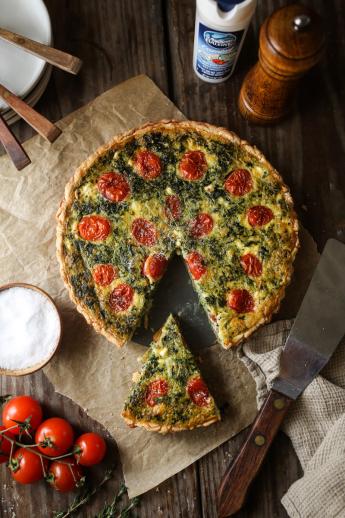 Image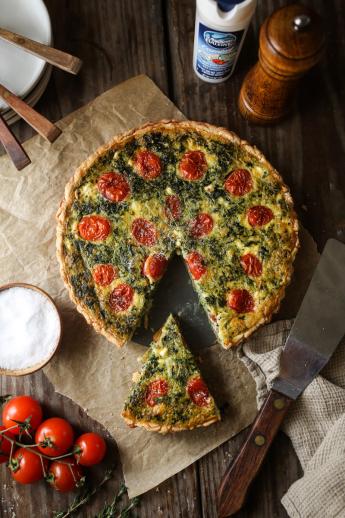 Ingredients :
1 sheet of pie dough
2 tablespoons breadcrumbs (this prevents the crust from getting soggy)
1 tablespoon olive oil
10 ounces frozen spinach or about 1 pound fresh spinach (should equal about 1 cup once cooked down)
4 large eggs
½ cup heavy cream
½ teaspoon La Baleine Essentiel Salt
½ teaspoon fresh ground black pepper
¾ cup crumbled feta cheese
½ cup cherry tomatoes, sliced in half
Instructions :
Image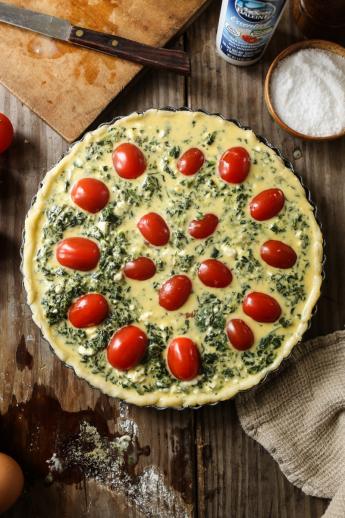 Preheat your oven to 400 degrees.
On a floured work surface, roll out the pie dough until you have a circle that is slightly larger than your quiche pan.
Lightly grease a 9" quiche pan or pie dish. Line your pan with the dough then prick the bottom with a fork a few times and sprinkle the breadcrumbs on top.
Add the olive oil to a large skillet set over medium heat. Then saute the spinach until most of the liquid has evaporated (if using frozen) or it has wilted and cooked down, if using fresh. Remove from heat and set aside to cool.
In a large bowl whisk eggs, heavy cream, La Baleine Essentiel Salt and pepper. Then add in the spinach and feta cheese.
Pour the mixture into the dough lined pine. Then gently press the cherry tomatoes into the filling.
Carefully transfer to the oven and bake for 40-50 minutes or until the top is golden brown and the filling is set. If your quiche starts to get too brown, cover with aluminum foil.
Remove from the oven and allow to cool for at least 10 minutes before slicing and serving.
Image