Creamy Rosemary Chicken and Roasted Tomatoes
Prep time: 10 minutes  - Cook time: 18-20 minutes -  Serves 4
Image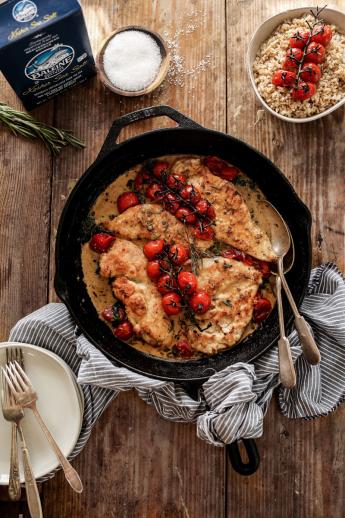 Image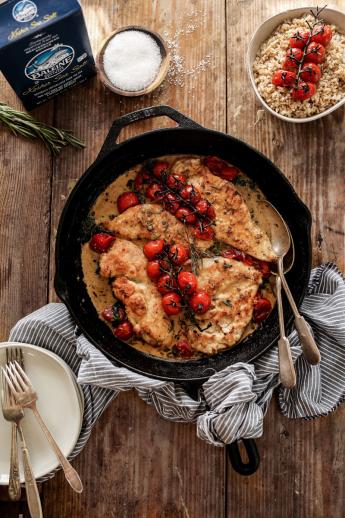 Ingredients :
1 pound boneless skinless chicken breasts, sliced into 4 pieces and pounded until thin
5 ounces of fresh spinach
12 ounces cherry tomatoes
La Baleine Kosher Sea Salt
½ teaspoon fresh ground pepper + more for seasoning
5  tablespoons olive oil
⅓ cup all-purpose flour
2 tablespoons fresh rosemary, roughly chopped + a few rosemary sprigs
4 cloves garlic, minced
½ teaspoon red pepper flakes (optional)
2 tablespoons unsalted butter
½ cup chicken broth
⅓  cup heavy cream
¼ cup fresh grated parmesan cheese + more for serving
Serving suggestions: rice, quinoa, pasta
Instructions :
Preheat the oven to 450 degrees. Add tomatoes to a large cast iron or oven safe skillet. Drizzle with 3 tablespoon olive oil. Give the tomatoes a good toss to coat them in the oil, then sprinkle generously with La Baleine Kosher Sea Salt. Add in a few sprigs of rosemary and place in the preheated oven. Bake for 15-20 minutes, or until the tomatoes have turned golden brown and started to burst and bubble. Remove and transfer to a separate dish.
Place the same pan on a medium high heat burner. Add the remaining 2 tablespoons of olive oil and allow to get hot. 
Meanwhile, combine the flour and fresh ground pepper. Season the chicken with La Baleine Kosher Sea Salt then lightly coat in the flour mixture.
Once the oil is hot, add the flour coated chicken in a single layer and cook 3-5 minutes per side, until golden brown on both sides. Remove chicken to a separate dish and cover loosely with foil.
Lower the heat to medium. Then add the butter to the pan. Once it's hot, add in the garlic, chopped rosemary and red pepper flakes (if using). Cook for about 30 seconds, or until the garlic is golden brown.
Stir in broth, heavy cream, parmesan cheese and spinach. Once the spinach has cooked down and the sauce has thickened slightly, add the chicken back in. Season with additional La Baleine Kosher Sea Salt, if needed, and freshly ground pepper to taste and allow everything to cook together for a minute or two. You can choose to add the roasted tomatoes back in with the chicken or simply serve them on top of/alongside the chicken. Serve paired with rice, quinoa or pasta and sprinkled with additional parmesan cheese, if desired.