Pasta Carbonara
Prep time: 5 minutes  - Cook time: 10 minutes  -  Serves: 4
Image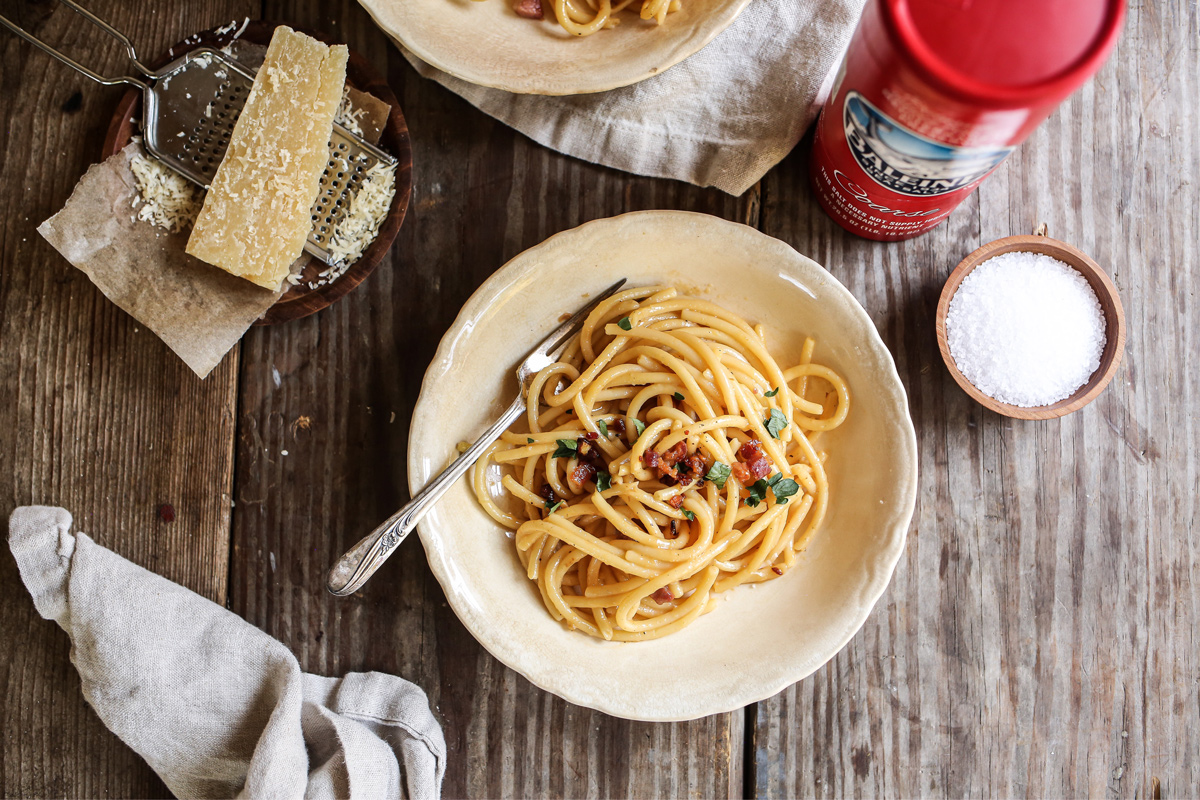 Ingredients :
1 pound of spaghetti or bucatini
4 large fresh eggs + 1 egg yolk
8 ounces pancetta or bacon diced into small cubes
La Baleine Coarse Sea Salt
1 cup grated pecorino or parmesan cheese
3-4 cloves of garlic, minced (optional)
Fresh ground pepper
Fresh parsley, roughly chopped, for serving (optional)
Instructions :
Generously salt a large pot of water with La Baleine Coarse Sea Salt (you want it to be really salty, like ocean water). Bring to a boil, then add the pasta and cook according to package directions, just until al dente, about 8-10 minutes. Drain the pasta, but be sure to reserve about a cup of the pasta water.
While the pasta is cooking, heat a large skillet over medium heat. Add the pancetta and garlic, if using, and sauté for about 5-8 minutes, or until the meat has turned golden and crispy (time will vary depending on the size of the cubes of meat). Remove the pan from the heat.
In a small bowl, whisk together the eggs, egg yolk and cheese until well combined. Set aside.
Once the pasta is cooked and drained, immediately toss it into the pan with the pancetta, along with about ¼ cup of the reserved pasta water. Give it a quick toss (tongs are great to use here), then, working quickly and carefully, stir in the egg mixture. Continue stirring (or tossing with tongs) the pasta until a sauce forms. If the sauce is too thick, add more of the reserved pasta water until the sauce reaches your desired consistency.
Season generously with fresh ground pepper. If needed, you can also grind in some additional La Baleine Coarse Sea Salt (depending on the kind of meat you use and how much you salt the pasta water, you may not need additional salt). Serve immediately topped with fresh parsley.