Salty Chocolate Oat Cookies
Prep time: 30 minutes - Cook time: 17 minutes - Yields 20-22 large cookies
Image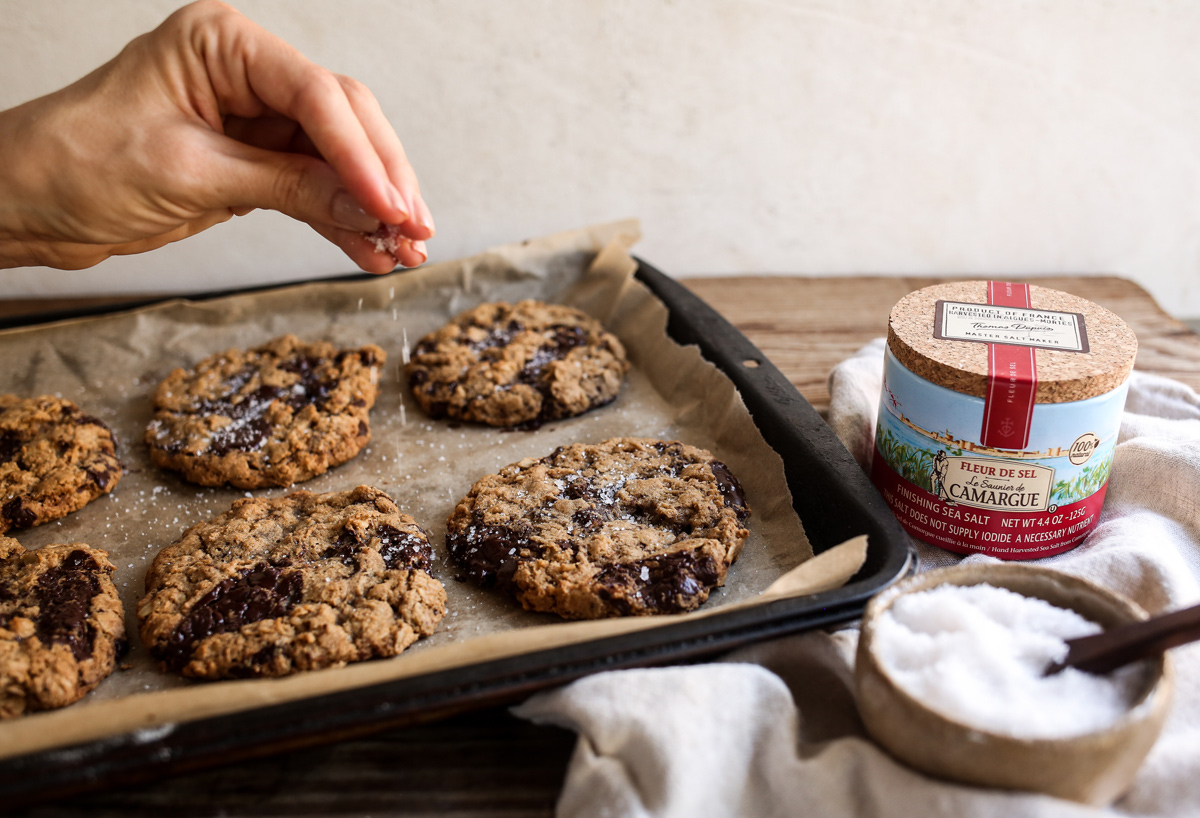 Ingredients :
1 cup (2 sticks) unsalted butter, softened to room temperature
1½ cups packed brown sugar
½ cup granulated sugar
2 large eggs
1 tablespoon vanilla extract
3 teaspoons espresso powder (optional)
2 cups all-purpose flour
1 teaspoon baking soda
1 teaspoon La Baleine Kosher Sea Salt
3 cups old-fashioned oats
14 ounces semisweet or dark chocolate, roughly chopped 
Le Saunier de Camargue Fleur de Sel
Instructions :
 In the bowl of a stand mixer, combine the butter and sugars. Cream together until light and fluffy, about 3-4 minutes. Add the eggs and continue to beat until the mixture is even fluffier and has an almost frosting-like consistency, about 3-4 more minutes. Add the vanilla extract and espresso powder (if using) and beat another minute or so, until fully incorporated (there should be no espresso granules remaining).
Scrape down the sides of the bowl. Then add in the flour, baking soda and La Baleine Kosher Sea Salt. Beat for only 20-30 seconds, or just until the flour is partially incorporated.
Remove the bowl from the mixer and add in the oats and chocolate, stirring by hand just until everything is incorporated.
Use a large ice-cream scoop or ¼ cup measuring cup to scoop the dough onto a lined baking sheet. Either freeze for 20 minutes or refrigerate for 60 minutes up to 24 hours. If you choose to refrigerate the dough overnight, let the cookies rest at room temperature for about 30 minutes before baking.
When you're ready to bake the cookies, preheat the oven to 350 degrees. Place the cookie dough 2" apart on a lined baking sheet (approximately 6 cookies a tray) and bake for 16-17 minutes, or until golden around the edges. Allow to cool slightly, then transfer to a cooling rack and sprinkle generously with Le Saunier de Camargue Fleur de Sel.