Sheet Pan Egg-in-a-Bagel Hole with Prosciutto + Gruyere
Prep time:  10 minutes   -  Cook time:  12-15 minutes  -  Yield: 6
Image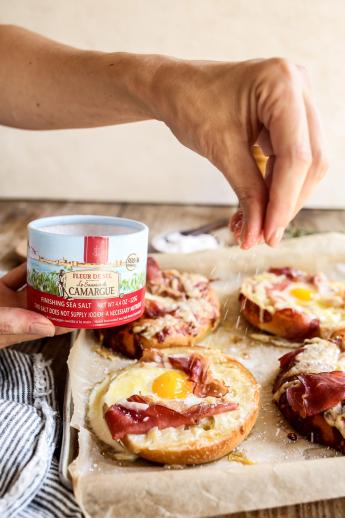 Image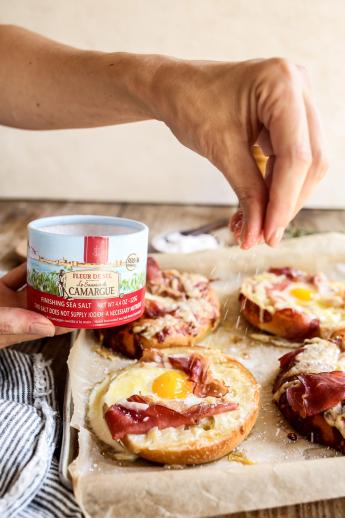 Ingredients :
2 tablespoons unsalted butter, melted
3 bagels of your choice, sliced in half lengthwise
6 medium-sized eggs
6 slices of prosciutto
6 tablespoons grated gruyere cheese (you can also use a sharp cheddar)
Fresh thyme
Le Saunier de Camargue Fleur de Sel
Fresh ground pepper
Olive oil
Instructions :
Preheat the oven to 400 degrees. Line a large baking sheet with parchment paper.
 
Use a small biscuit cutter or a knife to slightly enlarge the center of each bagel half. Place on the prepared baking sheet.
 
Generously brush both sides of the bagels with melted butter. Then carefully crack an egg into the center of each bagel, making sure the yolks remain intact. Then top each with a slice of prosciutto, roughly ripping it into 2 or 3 pieces before placing it on the bagel. Sprinkle each with about 1 tablespoon of the grated cheese.
 
Bake for 12-15 minutes, depending on how you like your eggs cooked.
 
Drizzle generously with olive oil, Le Saunier de Camargue Fleur de Sel, fresh ground pepper and fresh thyme. Enjoy immediately.