Shrimp & Mango salad
Prep time: 10 minutes    Cook time: 8-10 minutes   Serves: 4
Image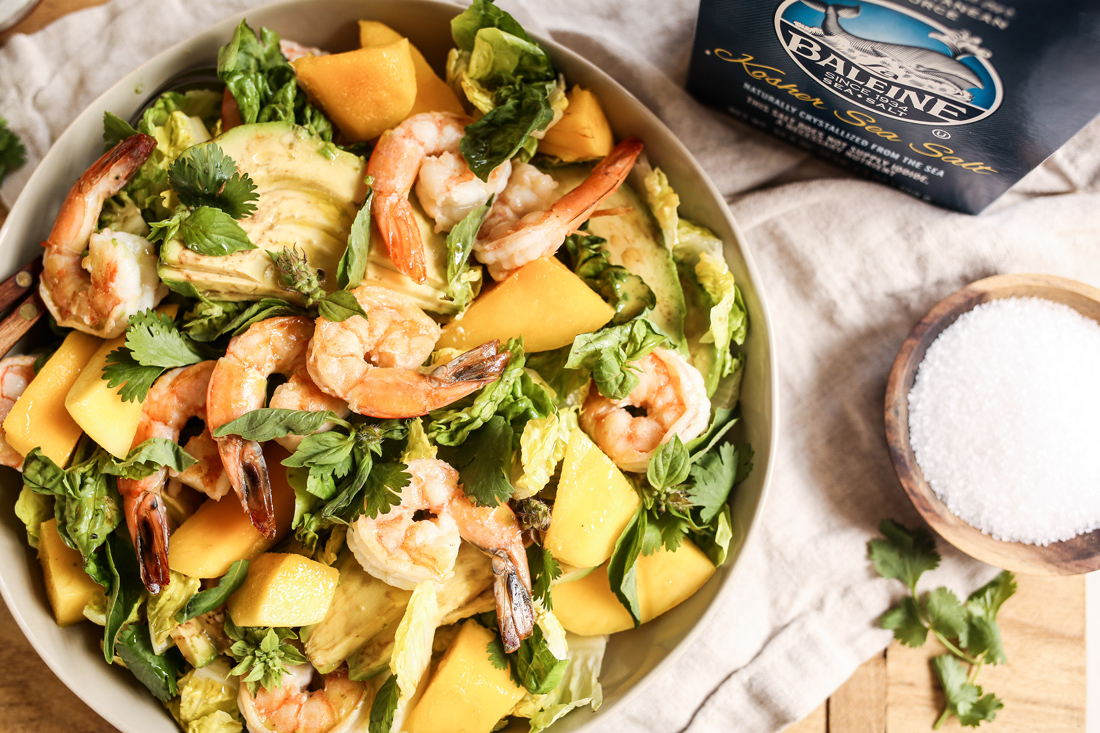 Ingredients :
1 pound medium-sized shrimp, peeled and deveined
¼ teaspoon La Baleine Kosher Sea Salt + more to season shrimp
5 tablespoons extra-virgin olive oil
2 large limes
1 teaspoon honey (use a hot honey if you want to kick it up a notch)
2 tablespoons fresh basil, plus more for serving
2 tablespoons fresh cilantro, plus more for serving
About 6 cups thinly sliced romaine or little gem lettuce 
1 large mango, chopped into cubes (about 1 cup)
1 large avocado, cut into slices or cubes
Instructions :
Generously season the shrimp with La Baleine Kosher Sea Salt. Heat a large skillet over medium heat. Coat the bottom with 1 tablespoon of olive oil, then add the shrimp in a single layer, cooking in batches if necessary. Cook until the shrimp are pink and opaque, about 1-2 minutes on each side. Transfer to a dish, squeeze on the juice of half a lime and allow the shrimp to cool.
In a food processor or blender, add the remaining olive oil along with the ¼ teaspoon La Baleine Kosher Sea Salt, juice and zest of 1 lime, honey and fresh herbs. Blend just until smooth.
In a large bowl combine the lettuce, mango and avocado. Toss with the dressing, then top with shrimp and garnish with additional fresh herbs.