Small pork filet mignon
Image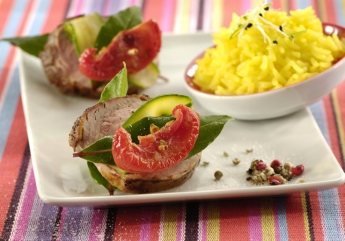 Image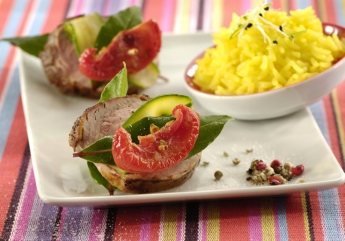 For 6 people :

1 pork filet mignon
2 soup spoons of oil
25g of butter
1 sliced onion
1 glass of chicken stock
4 courgettes
2 bay leaves for the cooking
A dozen bay leaves for the decoration
A dozen candied or dried tomatoes
Fine La Baleine Sea salt
Pepper
1/ cook the onion in the oil and butter
2/ add the pork and brown all sides
3/ add the 2 bay leaves and let it seize for a few minutes while turning the meat regularly
4/ add the balsamic vinegar. As soon as the liquid has evaporated, add the stock and lower the heat and let it simmer for 15 to 20 minutes.
5/ Wash and dry the courgettes, slice them so that they look like tagliatelles
6/ Plunge them in boiling water for 5 minutes, drain, salt and pepper, and put them to one side
7/ Cut the filet mignon into slices about a centimetre and a half thick. Place a slice of the courgette around each slice. Use a tooth pick to attach a bay leaf to a dried or candied tomato.
8/ Salt and pepper

Serve with the rest of the courgette and with some safran rice.